First of all a Happy New Year to you all! To start the year of I made video of some nice footage we shot on our 2014 family holiday in Alaska with some music from my OceanoGraphy album. I hope you enjoy it!.
A nice video Rob made of my 'NachtWacht' track that I made for the 'Dutch Masters' concept album. You can read more about the Dutch Masters concept op http://www.synth.nl/DutchMasters
Bellerob did it again! This time he made a very nice video with the track 'Paper Planes' from the PrimiTiveS album by Remy and Synth.nl Enjoy !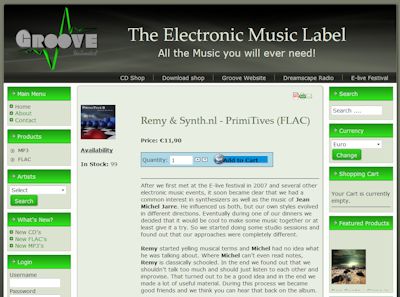 I have good news. PrimiTiveS is now also available from the download shop of Groove Unlimited. You can chose between two formats. Either 256 Kbit/s MP3 or Full Quality FLAC. Both files include the complete artwork. You can pay with PayPal or Ideal (from The Netherlands) and after your payment you get an immediate download link in your E-mail. All very easy and it saves you shipping costs if you are from outside Europe. You can find the download links on these URL's:

MP3 -> https://shop.groove.nl/gr-198-mp3
FLAC -> https://shop.groove.nl/gr-198-flac

More information on the album here: http://www.synth.nl/PrimiTiveS