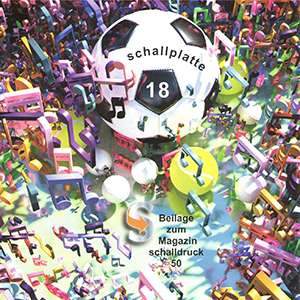 Recently the German Electronic Music club Schallwende released another sampler CD. It is already the 18th edition of the SchallPlatte series. This CD is only distributed to the members of the club and is not for sale. A jury always selects the tracks from a large amount of submissions. This year I decided to send in a track and I'm proud to see that it was selected again. The Theme for this CD was sport this time and I chose table tennis. I have been playing table tennis since I was 18 so for me that was an easy choice. I had a great time creating especially the rythm track with actual table tennis sounds. The music was influenced this time a bit by Reggae / Ska which was quite popular in The Netherlands when I started playing table tennis back then. I hope you enjoy it.
You can listen to the track on my website on this URL http://www.synth.nl/schallplatte18. I hope you like it. Enjoy! :)
First of all a Happy New Year to you all! To start the year of I made video of some nice footage we shot on our 2014 family holiday in Alaska with some music from my OceanoGraphy album. I hope you enjoy it!.
A nice video Rob made of my 'NachtWacht' track that I made for the 'Dutch Masters' concept album. You can read more about the Dutch Masters concept op http://www.synth.nl/dutchmasters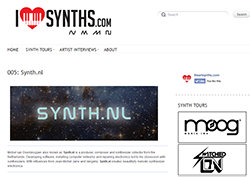 I recently did a very nice interview with iHeartSynth.com about my studio and my music. I also made some new pictures for them to go along with the interview. One thing I also tell in the interview is that I removed the studio part on my Synth.NL website. I will try to keep you updated from time to time on my blog at http://synthnl.blogspot.com,about the studio so be sure to subscribe or look there once in a while.
You can find the interview on this URL: http://www.iheartsynths.com/artist-interviews/synth-nl/. I hope you enjoy it.
Long time since I wrote on here. Sorry about that. I'm very busy rebuilding the studio at the moment. You can check my blog if you like to read on the progress on that project. For now I'm nominated again for the SchallWelle awards. Together with Remy Stroomer this time with our collaboration album 'PrimiTiveS'.
You can find Remy & Synth.nl in: Artist 2013 international
And PrimiTiveS in: Album 2013 international

Bring out your votes (also the simple instructions are explained here):
http://voting.schallwelle-preis.de/

I wish you all Happy Holidays and a Merry Christmas (if you celebrate it of course).