This is an overview of the 3D Animation work I did in the last year. I tried to make a little compilation that shows a good average of what I can do. All animations were made in Cinema 4D. The music I put under it is the track 'Apollo 9' from my 2011 Apollo album. More information about Apollo here: http://www.synth.nl/Apollo. More information about my graphics work here: http://www.osenbruggen.nl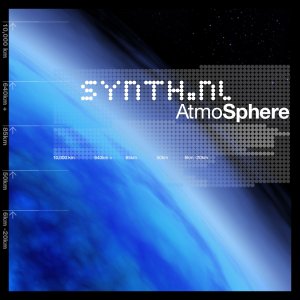 A while ago I reported that there were only 3 AtmoSphere CDs left. Those ones were sold quite quickly as well. My record label Groove Unlimited was so kind to do a reprint of AtmoSphere, because there were more people interested. So I have good news. There are another 300 copies of the physical CD available. You can buy them directly from Groove Unlimited. AtmoSphere was my second solo album and was originally released in 2008. You can find more information about the album and the sales links on http://www.synth.nl/AtmoSphere. You can also listen to some clips there. It is also available as mp3 download from Itunes, Amazon and CDBaby by the way if you prefer that format.
My Apollo album won the 'best international CD' price at the Schallwelle Awards in Germany. I was so happy about this, that I made this video to thank everyone who voted for Apollo and Synth.nl. I made all the 3D animations myself with Cinema 4D.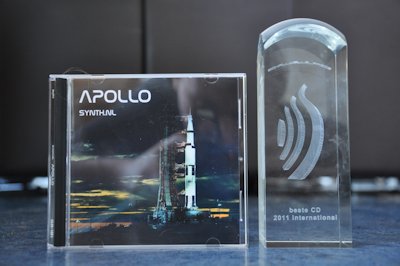 I just recovered from a very long and exciting day yesterday at the Schallwelle electronic music award ceremony in Bochum Germany. I knew I was nominated with 4 other artists, but since the competition was very fierce I didn't expect to win at all. Then when the category 'best international CD' came up I suddenly heard my name with my Apollo album as the winner. I was in total shock since I had to go up front to the podium and a microphone was put under my nose. I had a total blackout and no idea what I said. Ah well nobody looked weird at me afterwards so I guess it was OK. I was (and still am) very happy of course to win this award. An honor to be picked by both the audience and jury from a long list of albums. Another nice thing was that my friend Eric van der Heijden won the 'best artist international' category. And Ron Boots our label owner and good friend was sitting right in between us. He had a good day too :) He was so happy that he announced a 10% discount in the Groove Unlimited webshop for our music the coming week.  I want to thank you all for voting, because that got me nominated in the first place and helped with the final result for sure! Thank you, thank you, thank you :) Well this certainly motivates me to go and make some new music to thank you all. You can read more about the price/event and all the other winners on this website: http://schallwelle-preis.de/. When I have more pictures I will post some nice ones as well. More information on the album here: http://www.synth.nl/apollo (in case you don't know it yet).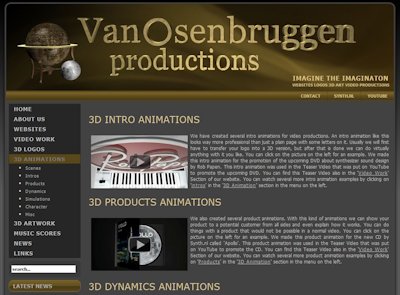 I know some of you like my 3D work as well as my music. I plan to do lots more work in this direction with or without my music. But because it doesn't really fit on the Synth.nl website I just put up a new website on http://www.osenbruggen.nl/. I'm planning to do some jobs for customers as well together with my wife. We already build a few websites, videos, logos and animations for customers and we are hoping to get a few more jobs in the future of course. We are using the name 'Van Osenbruggen Productions' for this from now on. Maybe you have seen the name popping up in one of my videos already by the way. Well anyway on the website you can find the videos, websites, logos and animations we did so far. More will come for sure :)