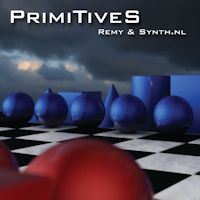 Released: April 6th, 2013 by Groove Unlimited
After we first met at the E-live festival in 2007 and several other electronic music events, it soon became clear that we had a common interest in synthesizers as well as the music of Jean Michel Jarre. He influenced us both, but our own styles evolved in different directions. Eventually during one of our dinners we decided that it would be cool to make some music together or at least give it a try. So we started doing some studio sessions and found out that our approaches were completely different. Remy started yelling musical terms and Michel had no idea what he was talking about. Where Michel can't even read notes, Remy is classically schooled. In the end we found out that we shouldn't talk too much and should just listen to each other and improvise. That turned out to be a good idea and in the end we made a lot of useful material. During this process we became good friends and we think you can hear that back on the album. We think that this album is a good mixture of both our styles with music we wouldn't have created on our own. We hope you enjoy listening to this album as much as we did creating it.
Please note that these samples are only 5 minute excerpts of the actual songs. The whole CD is over 70 minutes long and holds 9 tracks!
For sale at:
Track info:
| Nr | Name | Length |
| --- | --- | --- |
| 1 | Underground Tubes | 12:18 |
| 2 | Traffic Cones | 07:22 |
| 3 | Ancient Pyramids | 07:05 |
| 4 | Liquid Spheres | 06:26 |
| 5 | Fractured Splines | 07:10 |
| 6 | Crashing Toroids | 05:45 |
| 7 | Paper Planes | 06:57 |
| 8 | Frozen Cubes | 05:21 |
| 9 | Burning Cylinders | 12:31 |