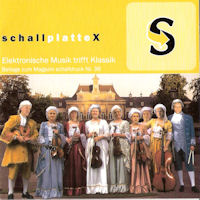 Released: August 17th 2008, By Schallwende E.V.
This is a sampler CD published by the German Electronics Music Club called Schallwende EV. They organized a contest were musicians could sent in their Electronic impression of a song from a classical composer. There were 5 composers to choose from and I did a piece by Albinoni. There were many competitors and the jury chose my track to be on the CD. Of course I'm very proud of this. The CD is not officially for sale. It was given to all the members of the club. This track will be also on my Classical Project to be released soon.
This track is only a low quality mp3 sample. The CD holds only 1 track by Synth.nl
Not for sale:
This CD is officially not for sale. If you really really want a copy. Contact me. Then I'll see what I can do for you.
Track info:
| Nr | Name | Length | Description |
| --- | --- | --- | --- |
| 1 | Albinoni | 05:26 | This is a track I did based on a famous piece called 'Adagio in G Minor' by the classical composer Tomaso_Albinoni. I didn't make a one to one cover but used some element from the original composition and made it into my own version. This is also a bit of a teaser track for my Classical Project to come soon. |