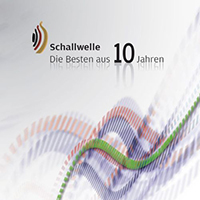 Released: February 17th 2018, By Schallwende E.V.
This is a sampler CD published by the German Electronics Music Club called Schallwende EV. It is distributed to their members only. They made a double CD this year where all Schallwelle price winners could send in a track. 22 tracks were submitted in total. I am proud my track is on the album. The CD is produced in a very limited edition. I think Groove Unlimited still has a few for sale.
This track will be re-released soon on the upcoming TimeTravel album.
Track info:
| Nr | Name | Length | Description |
| --- | --- | --- | --- |
| 1 | Taurus | 05:25 | This track is special for me. I hope you like it. I made it during the sick bed of my father in law. He died in the mean time, we just buried him. I would like to dedicate this track to him. The name of the track is 'Taurus'. This was his 'zodiac' (Sternzeichen/Sterrenbeeld) and mine too, so we shared that. He also fought like a bull against death during his 9 months sick bed. The track is mastered by my friend Hans Landman. |