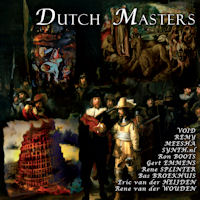 Released: February 18th 2011, By Groove Unlimited
The Dutch Master was an idea I had a while ago to promote the Dutch Synthesizer Music scene. The idea was to make a sampler CD about paintings of a famous Dutch painters with only Dutch musicians. Every artist should take a painting in mind and compose music to it. I discussed this idea with Groove Unlimited (my record label) and they were enthusiastic right away. Groove Unlimited contacted the artists and got a lot of positive reactions as well. So this project is going to happen :) There will also be one track made by me on this sampler CD of course. The CD will be released on the 18th of February 2011.
For sale at:
Groove CD Shop (CD)
Groove Download Shop (FLAC)
Groove Download Shop (MP3)
This track will be re-released soon on the upcoming TimeTravel album.
Track info:
| Nr | Name | Length | Description |
| --- | --- | --- | --- |
| 1 | NachtWacht | 7m41s | Back in school I learned about our famous Dutch Masters from the 'Golden Age' and I must admit that I never really cared much for paintings, until I saw a group of actors perform a live statue version of the Nachtwacht (Night Watch) painting by Rembrandt van Rijn. After that the painting started to fascinate me more and more and I wondered what it should sound like and that is what I expressed in this track. |