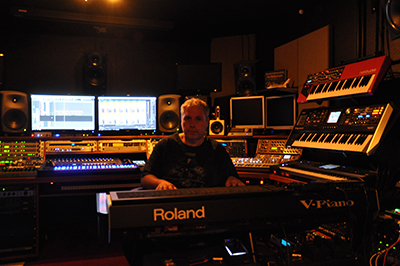 Hi, first of all I'd like to wish to all the very best for 2018. Happy New-year ! I know some of you wonder if I'm still alive. Well the answer is yes, but the last years I have been very busy with both RenderFarm.NL and Virtiso. By now I have sold both of these companies and I'm a free man again. In the end it gave me too much stress and I almost suffered another burnout. So I decided it was enough. I'm still involved in the background with my first company BIT BV, and will continue to do so. No plans at this moment to start something new.
The good news from this all is that I had time to completely rebuild the studio last year. I sold a lot of my vintage synthesizers and bought new stuff equipment back. I also bought some synthesizers I had as keys back as modules without a keyboard. I took all cabling out and completely redid everything. One of the new additions it the Roland V-Piano you see me playing on here. I really love this thing. The 88 keys weighted keyboard is so nice to play on. I will show more of the new studio is later posts.
I also got asked a lot if new music is coming. Yes there is! I'm currently working on 2 solo albums, and also a collaboration album again with Ron Boots and also another one with Remy Stroomer. I recently also finished a single track for a sampler CD that will be released soon. I will update you all on this in time as well. I hope to release at last one of these albums in 2018. I'm working on it.
Thank for you interest and let me know if you have any questions.