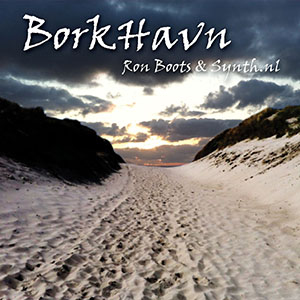 Today is the day. After 7 years I finally have an official release again. 8 years ago Ron Boots and myself went on a family holiday in Denmark and took some synthesizers and notebooks with us. During the day we enjoyed the nature with our families and did some nice stuff and in the evening Ron and myself went in the small improvised studio and started improvising on our own. All music on the album was recorded live and was improvised in that holiday house. 8 years later we picked the best parts and finished them in our studios and eventually did the end mixing in Ron's studio and Ron also did the mastering. I did the artwork. The music is a bit more modern film music than classic EM we think, but judge for yourself. You can listen to some excerpts on my website on this URL: https://www.synth.nl/borkhavn and you can also listen on bandcamp here: https://synthnl.bandcamp.com/album/borkhavn. You can also buy the album there as MP3 or FLAC. You can also buy it directly from Ron's record label Groove Unlimited from these links.

Physical CD with Jewel Case: http://www.groove.nl/jump2.php?artnum=GR-299
FLAC download including all the artwork: https://shop.groove.nl/gr-299-flac
MP3 download including all the artwork: https://shop.groove.nl/gr-299-mp3

I hope you like it. Let me know if you have any question.